Pupil Premium
Read our Pupil Premium Strategy by clicking here.
The Pupil Premium Grant (PPG) is designed to ensure that funding to tackle disadvantage reaches the pupils who need it most. The funding is allocated to Local Authorities and schools with pupils from Reception to Y11 who have registered for free school meals (FSM) at any point in the last 6 years (Ever 6 FSM), children who are looked after (CLA) or have parents currently in the Armed Forces.
| | |
| --- | --- |
| Pupils in year groups reception to year 6 recorded as Ever 6 FSM | £1320 |
| Looked after children (LAC) | £1900 |
| Service children | £300 |
All members of staff, governors and teaching assistants at Our Lady and All Saints Catholic Primary School accept responsibility for 'socially disadvantaged' pupils and are committed to meeting their pastoral, spiritual, social and academic needs within the school environment.
We are committed to 'Closing the Gap' between vulnerable pupils and their peers; the pupil premium forms a vital part of this process.
This funding helps remove barriers to learning so that all our pupils reach their full potential and enables them to fully engage in our curriculum and school life.
The governors reserve the right to allocate the pupil premium funding to support any pupils or groups of pupils the school has legitimately identified as being socially disadvantaged.
Provision will be made through:
Facilitating pupils' access to education
Facilitating pupils' access to the curriculum
Alternative support and intervention within the school
Barriers to attainment
Although not exhaustive we have identified the following barriers to learning for those children who receive PPG.
Lower than expected starting points leading to poor reading, language and mathematical skills

Lower self-esteem leading to challenging behaviours and low expectations

Limited access to a range of experiences, including social and educational activities

Arriving at school under prepared, resourced and not eager to learn
Last year our school received £9240 in Pupil Premium allocations. This was £1320 per child. You can read the report below to see how funds were delegated.
Academic Year

Amount Allocated –April

(from Oct census)

Number of children in receipt of PPG

Service

Children

2016/17

£3960

3 (2.8%)

1 (£300)

2017/18

£9240

7 (6.8%)

1 (£300)

2018/19

£9240

7 (7.2%)

1 (£300)
Last year the Pupil Premium Grant was used in a variety of ways. These included:
Reducing the size of Class 4 thus improving opportunities for effective Assessment for Learning (AfL) and accelerating progress

Providing professional development opportunities for staff aimed at increasing attainment and accelerating progress

Providing small group work with a focus on overcoming gaps in learning

Supplementing or paying for additional learning opportunities provided by external agencies, educational visits etc.
The impact of Pupil Premium last year was that:
Identified pupils are well behaved, happy and ready to learn.

identified pupils who are on the intervention register are monitored and intervention is adapted half termly – if relevant;

The majority of identified pupils made at least expected progress with some exceeding their school targets in Reading and Maths

Half of the identified pupils made at least expected progress with some exceeding their school targets in Writing. Those children who did not make expected progress made at least 2 terms progress.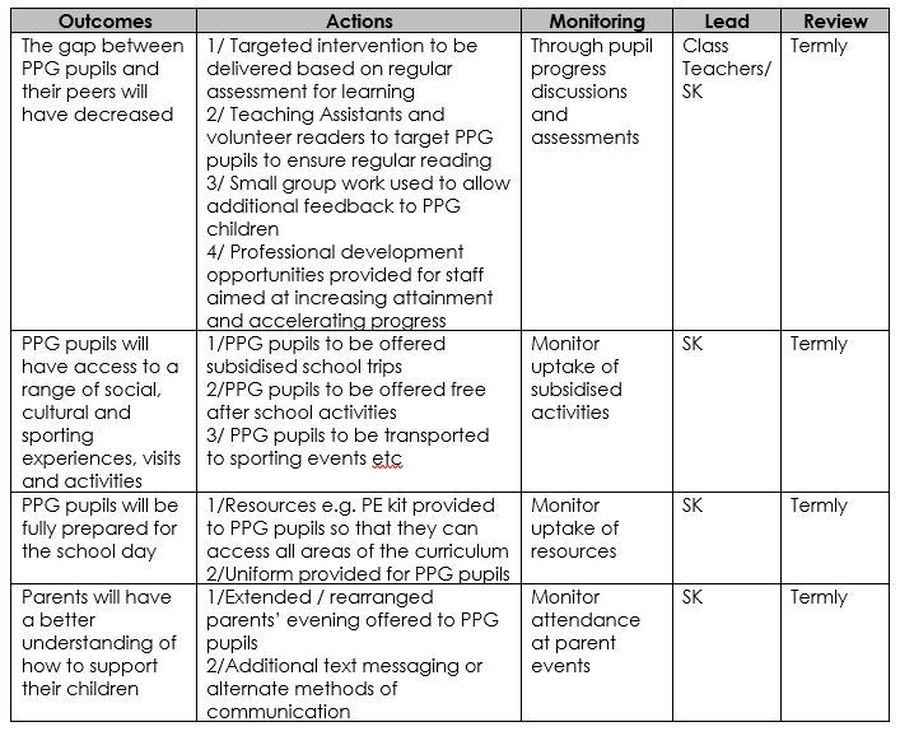 To see how Pupil Premium funding was used last year please read the document below.