Safeguarding and Online safety
What do we do with your child's data?
What do we do with staff data?
We work hard to promote positive digital citizenship in our school. Children are taught from Reception on how to stay safe online and how to use a variety of computing products.
From learning in class to playing games at home, children are doing more on the internet than ever before - and it's a wonderful place. However, just as in 'real life' it's important to make sure your child is staying safe online.
We know how difficult and demanding it can be to find the time when you're a busy parent and also just how daunting it can be to try and work out if the information you've found online is up to date. You can visit the tab on the Online page for top tips for parents and signposts to valuable information.
Children have a clear set of rules to follow both in and out of school and we hope parents will have the same key values. All children are taught the SMART rules. You can find out what the rules are below...
From KS2, children are taught about their digital footprint and learn that once things are published and live on the internet they are there forever. We also discuss the appropriateness of online games, as well as posting of pictures and comments made on social media.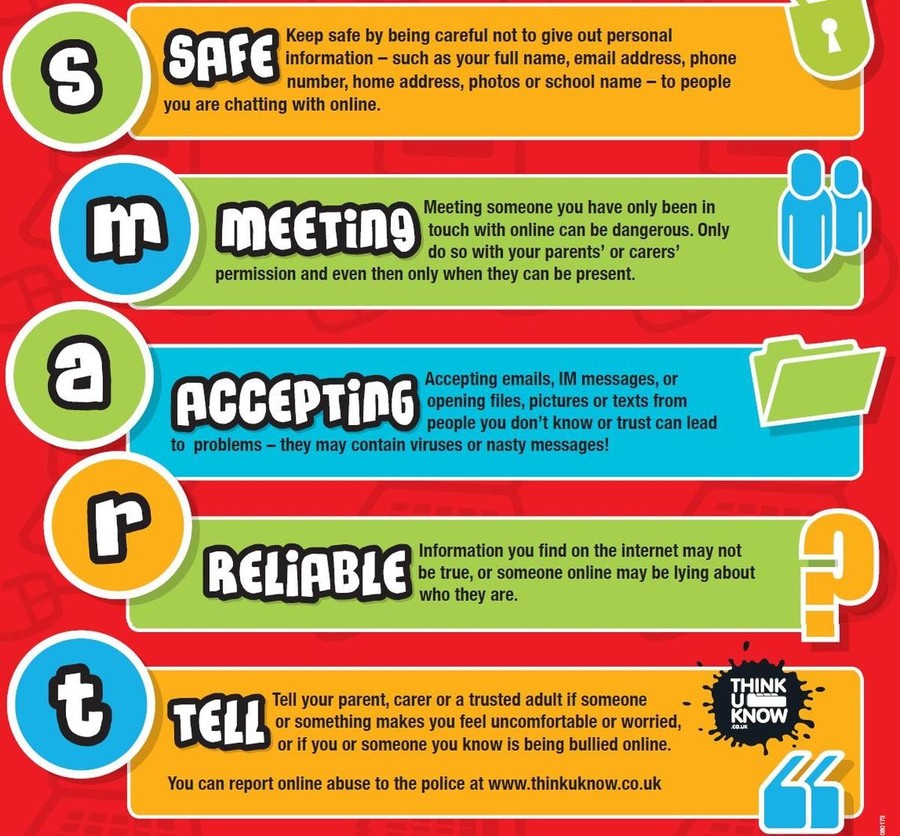 We work hard to teach your child about the appropriateness of things they see online or games they play.We teach them what to do if something makes them feel uncomfortable. It has come to our attention that some of our children play games online and on various consoles. Please ensure you encourage your child with the same messages given at school.